XP4: Land of the Silver Lotus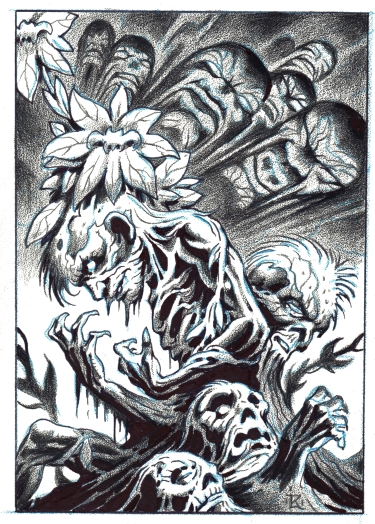 Narcotic Plants and Ancient Ghosts
"Sail due east from Iraab, O traveller, to the verdant isles where pale blossoms sway in the moonlight to the throb of native drums. But beware the treacherous hidden reefs, which can shatter a ship and send you to a watery grave before you even set foot on dry land!
If you can make landfall and offer a satisfying bribe to Tiku, the decadent Pygmy King, there are great riches and marvelous sights awaiting you deep within the inland jungles. That is, if you dare to venture past the bleached bones of countless fools who have gone before you into the places that are taboo ..."
Savage Swords and Sinister Sorcery
"Land of the Silver Lotus" is a stand-alone sword and sorcery adventure module, inspired by the pulp era tales of Robert E. Howard and Clark Ashton Smith. Venture in the footsteps of Conan the Cimmerian, Satampra Zeiros of Uzuldaroum, Imaro of Nyumbani, and other fabled thieves, reavers and slayers!

Written for the Pathfinder Roleplaying Game, the adventure in this book can be easily adapted to any fantasy roleplaying game ruleset or edition.
Book features:
A fully detailed sword and sorcery adventure for character levels 4-6
Use the provided adventure outline for an epic mini-campaign, or use as a sandbox environment
A mix of wilderness exploration and combat against mighty jungle beasts and ancient evils, as well as opportunities for subterfuge and negotiation
Region, village, ruin and dungeon maps
New monsters and creature templates
Background information on the lands, races and cults of the World of Xoth
Original artwork by Kent Burles
Get the PDF version
"Land of the Silver Lotus" is available as a 48-page PDF. The price for the electronic version is USD 9.
Please pay by PayPal using the link below, and remember to specify your email address. A link to download the file will be emailed to you within 24 hours (typically sooner) of receiving payment.
Get the print version
"Land of the Silver Lotus" is available in print as a 50-page saddle-stitched softcover from http://www.lulu.com/content/paperback-book/land-of-the-silver-lotus/19923644.
The price for the printed version is USD 16.
Reviews
Andrea Medici has reviewed the book at his Ahbaron blog and says that "'Land of the Silver Lotus' - alone this title rolls smoothly from your tongue, mysterious, promising, wondering, longing, awaking a thirst for adventure. And all this 'Land of the Silver Lotus' fulfills in a true Sword and Sorcery style."
He continues: "Depending on your preferred style of play you can pluck it for your own world and use it sandbox style or you can play the adventure in the amazing setting of Xoth, an astonishing and awe inspiring world in the sense of Sword & Sorcery Conan style."
And he concludes: "This is an outstanding product on a professional level (...) I collect for 29 years by now roleplaying publications in English, French and German, and Xoth Publishing ranks about my top 5."
Also check out the rave reviews of the other Xoth.Net Publishing books, including XP1: The Spider-God's Bride, XP2: Song of the Beast-Gods and XP3: The Citadel beyond the North Wind.
Supporting material