In a typical sword and sorcery campaign such as the World of Xoth, the traditional demihumans do not exist, and the majority of player characters and non-player characters are human. The following broad cultural archetypes can be used to distinguish between characters who would otherwise have the same racial abilities.
Savage
Savages include warriors from the frozen north and witch-doctors from the snake-infested jungles of the south. Savages tend to have a close connection with nature, but remain ignorant of many developments that more civilized people take for granted.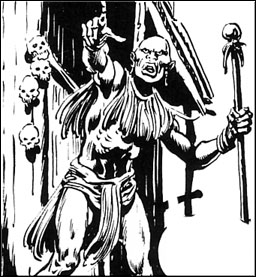 Savages have the following racial traits:
+2 to Strength
Sturdy: Permanent benefit as per the endure elements spell, and a +1 natural bonus to Armor Class.
Feral: Savages gain a +2 racial bonus to Perception checks.
Superstitious: Before attacking any supernatural or magic-using creature, the savage must succeed on a Will save (DC 10 + half level or Hit Dice of creature) or suffer a -4 penalty to attack rolls against that creature until the end of the encounter. Exception: If the character has more levels in spellcasting classes than non-spellcasting classes, the character instead casts spells with a +1 bonus to effective caster level.
Nomadic
Nomads roam the empty wastes beyond the civilized cities; quick to strike and bound by no laws. Nomads live with their animals and usually ride into battle with them; they feel ill at ease without them.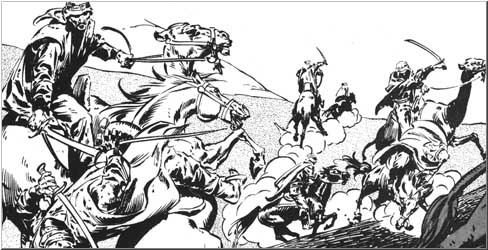 Nomads have the following racial traits:
+2 to Dexterity
Proud: Iron Will as bonus feat.
Unpredictable: The character gains a "wild card" feat. As a standard action, the character can select any feat for which he meets the prerequisites. The selected feat remains active for the rest of the day. After the character rests for eight hours, the wild card feat slot resets to empty.
Bowlegged: Base land speed 20 ft.
Civilized
Savages and nomads eventually gather together to cultivate the land, build great cities, develop trade, and study medicine, mathematics and languages. In the civilized lands dwell noble knights, wise kings, and learned sages — as well as greedy merchants and cunning thieves.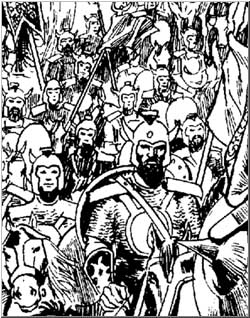 Civilized people have the following racial traits:
+2 to one ability score: Civilized characters get a +2 bonus to one ability score of their choice at creation to represent their versatile nature.
Educated: One bonus feat at first level, and one extra skill point at each level.
Frail: Civilized people have a -2 penalty to saving throws against poison and disease.
Enlightened
A few great civilizations rise above others and gain half-mythical status. Learned beyond normal men, people of enlightened cultures are builders of cyclopean pyramids and towers that pierce the skies. Their magnificent buildings can last forever, and likewise the flesh of the enlightened ones can withstand the passage of time like no other mortals.

Enlightened people have the following racial traits:
+2 to Wisdom
Uncanny: Once per day, the enlightened can re-roll any dice roll, but must keep the second result, regardless of the outcome. Also, enlightened characters who reach at least 2nd level before the normal human Middle Age (35 years) gain longevity and use the following age categories instead: Middle Age (100 years), Old (200 years), Venerable (300 years), Maximum Age (300 + 3d100 years).
Expert Builder: Enlightened ones receive a +2 bonus on Perception checks to potentially notice unusual stonework, such as traps and hidden doors located in stone walls or floors. They receive a check to notice such features whenever they pass within 10 feet of them, whether or not they are actively looking.
Conceited: Too confident in their own abilities, enlightened ones often underestimate their enemies. They suffer a -4 penalty to Initiative checks.
Decadent
Great civilizations reach their peak and eventually start to decline. Such fallen empires are ruled by jaded nobles, corrupt priests and wicked slave-traders. Demon-worship, human sacrifice and drug abuse is all too common in these cultures.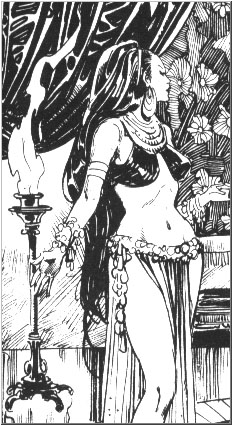 Decadent people have the following racial traits:
+2 to Charisma
Insidious: +2 bonus to Bluff, Knowledge and Stealth checks, and an additional +1d6 of sneak attack damage if the character has the sneak attack class ability.
Arcane Adept: Add +1 to the DC of any saving throw when casting spells.
Corrupt: -2 penalty to Will saving throws.
Degenerate
The last survivors of decadent civilizations start to feud over dwindling resources, or are driven away by stronger cultures. Fleeing into the wilderness, or deep underground beneath their ruins, they start to inbreed and devolve into something no longer entirely human. Degenerates may outwardly resemble savages, but they carry the evil taint of fallen empires.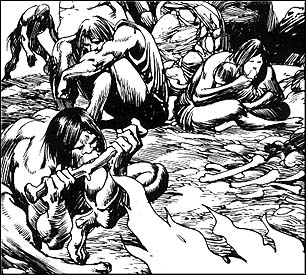 Degenerates have the following racial traits:
+2 to Constitution
Nocturnal: Degenerates can see twice as far as normal humans in conditions of dim light.
Ferocious: Once per day, when a degenerate is brought below 0 hit points but not killed, he can fight on for one more round as if disabled. At the end of his next turn, unless brought to above 0 hit points, he immediately falls unconscious and begins dying.
Unwholesome: Degenerates always have a physical deformity or a mental illness, caused by inbreeding, that sets them apart from other humans. This unwholesomeness can never be fully concealed. Degenerates suffer a -4 penalty on Bluff and Diplomacy checks (except when interacting with other degenerates), and the initial reaction of other cultural archetypes will never be better than Unfriendly.